[x]
Our Free shipping depends on the size of the item and the destination of the shipment. Remember, you can always change or upgrade the shipping type or speed as long as the item has not been sent to the warehouse for shipment.
Standard Orders Always Ship FREE Over $49 (All 50 US States including Territories)
Shipping speed of these items depends on the weight and size of the item. Though most items ship USPS Priority Mail, very small items will be sent USPS First Class Mail. The remainder will be shipped either FEDEX or UPS Ground.
Oversized Orders Mostly Ship FREE Over $49 (Continental US)
Some oversized items may incur a shipping fee, but most items ship for free. These items normally ship UPS or FEDEX Ground but some shipments maybe sent Sure Post or Similar, which may add a few days. You can always upgrade your shipping speed if the item hasn't shipped. Just call or email us.
Canadian Buyers Please Email or Call For Pricing
[x]
Our Price Matching Guidelines
Shadeonme is committed to providing you, our customers, with the best prices on all our products guaranteed. If you find a lower advertised price from a legitimate authorized Internet retailer we may match the price, as long as you meet our eligibility requirements.
You are eligible for a price match if you meet the following requirements:
The product must be identical to the product we have in stock for sale on our website. This includes the size, color, model year, components etc.
The price match item must include all costs the competitor would be charging you including tax and shipping speed/price where applicable.
The product we are price matching must be in stock and currently available for purchase from the other retailer.
The product must be offered for sale for a continuous 24-hour period.
Price matching may not apply to eBay, Amazon, or any other Internet auction sites.
Terms & Conditions:
Price comparison must include the product price plus shipping, handling fees, and taxes when price matching.
Price matching excludes the use of coupons, promotional offers, and/or product-bundle pricing, which cannot be combined on the order.
Price matching is limited to one item per customer.
Price matching is always subject to the discretion of Shadeonme.com.
Product Description
HQ Alpha Power Kite Package
The HQ Alpha kite is a great quad handle power kite. The Alpha has been developed to meet the demands of entry-level powerkiting. This rugged and user friendly foil is available in three different sizes to cover a wide range of winds. Simple and stable flying characteristics combined with serious power in stronger winds make the Alpha a great kite for traction excitement.
Alpha Power Kite Features
Handle Setup: HQ Quad Handle System with EVA Foam and Wrist Kite Killer Leashes
Kite Sizes: 1.5 Meters Squared - 2.5 Meters Squared - 3.5 Meters Squared
Wind Ranges: 1.5M(6 - 38 MPH), 2.5M(6 - 30 MPH), 3.5M(6 - 27 MPH)
Setup: Ready to Fly. Lines Attached Just Remove from Bag and Fly
Flyer Size: Small to Full Sized Flyers (Children Require Supervision at All Times)
Design: HQ Open Cell Design with Quad Handles - Color Matches Model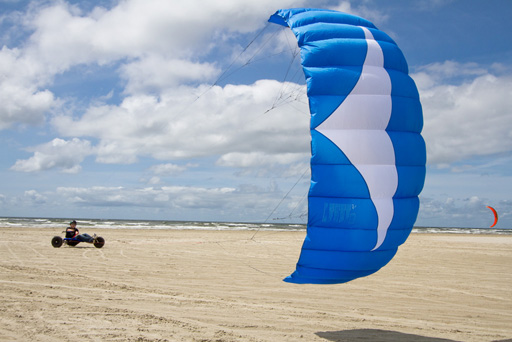 The HQ Alpha Does
Buggying: The HQ Alpha 5 gives you an experience like no other on a buggy. No matter what your style recreational cruising, freestyle tricks, or racing the Alpha will give you endless hours in a buggy.
Landboarding: The Alpha is great for landboard or mountain boards due to its consistent pull and stable flying. This means you will get no surprises when you are cruising, flying or sliding your landboard around. Also the HQ Alpha can give you so great lofty hang time.
Jumping and Skidding: This is a great way to get started in the sport and getting used to flying quad handle kites. When you steer the HQ Alpha 5 in medium winds, you will start to feel the pull and power of the kite. This will allow you to power up for a jump, or skid. One tip is don't run forward when the Alpha power kite starts pulling, just lean back and slide on your feet.
HQ Alpha Power Kite Package Includes
+ HQ Alpha Power Kite
+ HQ Alpha Dual Quad Handles
+ 4 x 20m 485lb Dyneema Line set
+ Safety Wrist Kite Killer System
+ Case for Carrying and Kite Storage
+ FREE HQ Power Kite Guide
+ FREE HQ Ground Stake Loop
Not Sure Which Trainer Kite is for you? Check Out ShadeOnMe's Trainer Kite Guide and See how the HQ Alpha did.
Product Reviews
Write Review
First Power Kite .....or kite for that matter

Posted by Ben on 17th Jul 2014

This is my first time with a power kite or really kites in general. The 2.5 is extremely easy to launch and fly. It has a lot of pull and can definitely drag you in strong winds (I weigh 190lbs). My muscles were sore in my shoulder blades the next day! I suggest wearing something between your fingers that wrap around the top lines because it can chaffe and swell them from rubbing. I also suggest daisy chaining the lines when storing as the way they suggest wrapping the lines makes for fun time *NOT* when you go to use it next.