Mason Exer-Rider Scooter for Disabled Children
[x]
Our Free shipping depends on the size of the item and the destination of the shipment. Remember, you can always change or upgrade the shipping type or speed as long as the item has not been sent to the warehouse for shipment.
Standard Orders Always Ship FREE Over $49 (All 50 US States including Territories)
Shipping speed of these items depends on the weight and size of the item. Though most items ship USPS Priority Mail, very small items will be sent USPS First Class Mail. The remainder will be shipped either FEDEX or UPS Ground.
Oversized Orders Mostly Ship FREE Over $49 (Continental US)
Some oversized items may incur a shipping fee, but most items ship for free. These items normally ship UPS or FEDEX Ground but some shipments maybe sent Sure Post or Similar, which may add a few days. You can always upgrade your shipping speed if the item hasn't shipped. Just call or email us.
Canadian Buyers Please Email or Call For Pricing
[x]
Our Price Matching Guidelines
Shadeonme is committed to providing you, our customers, with the best prices on all our products guaranteed. If you find a lower advertised price from a legitimate authorized Internet retailer we may match the price, as long as you meet our eligibility requirements.
You are eligible for a price match if you meet the following requirements:
The product must be identical to the product we have in stock for sale on our website. This includes the size, color, model year, components etc.
The price match item must include all costs the competitor would be charging you including tax and shipping speed/price where applicable.
The product we are price matching must be in stock and currently available for purchase from the other retailer.
The product must be offered for sale for a continuous 24-hour period.
Price matching may not apply to eBay, Amazon, or any other Internet auction sites.
Terms & Conditions:
Price comparison must include the product price plus shipping, handling fees, and taxes when price matching.
Price matching excludes the use of coupons, promotional offers, and/or product-bundle pricing, which cannot be combined on the order.
Price matching is limited to one item per customer.
Price matching is always subject to the discretion of Shadeonme.com.
Product Description
Mason Exer-Rider®
No motors, no batteries, no pedaling! With its patented power drive system, the original Mason Exer-Rider® is propelled by simply swinging the handlebars from side to side. Therapeutically adapted from the classic Flying Turtle®, the Mason Exer-Rider® is the design brainchild of Illinois "Teacher of the Year" and pediatric physical therapist, Beverly Richardson, for children with special needs. With decades of experience, Beverly Richardson visualized the therapeutic benefits for pre-school and grade school children.
The adaptive design features of the Mason Exer-Rider® include an upturn on the heavy-duty, tubular steel handlebars. Rubberized grips aid proper hand placement and promote the swinging motion which propels the scooter. The attached steel footplate positions the feet and an adjustable lower extremity strap may be used where needed. An injection-molded seat is strong enough to hold 150 lbs. Durable polyurethane skateboard wheels will not mar hardwood floors. A padded backrest and anti-skid seat cushion aid upper trunk stability. An adjustable waist belt provides pelvic support. These features enhance mobility without blocking rotation or the fun of independent play.
Kids love it! This versatile therapeutic riding vehicle has been clinically proven effective and fun for physically challenged children of all ages and it accommodates a variety of diagnoses. Children who have spina bifida, moderate cerebral palsy (especially diplegia), muscular dystrophy and a variety of other diagnoses benefit from and enjoy the Mason Exer-Rider®.
Mason Exer-Rider® Features
Provides vestibular stimulation
Promotes shoulder stability
Encourages upper extremity reciprocal movement
Enhances motor planning
Promotes visual perceptual skills
Promotes upper extremity strengthening
Promotes trunk rotation
Promotes independent play activity
Rider sits low and safe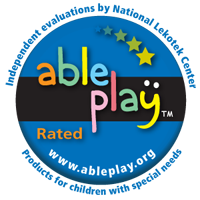 Flying Turtle ® Sit-Skate Scooter
05:47
Is it a bird? Is it a plane? No, it's everyone's favorite sit-skate scooter! It's simple to zip along any hard, smooth surface. No motor, no batteries, no pedaling. Rated as one of the Top 10 Toys by Parents Magazine. Powder-coated, steel handlebars and super-fast wheel bearings prove its superior quality. Sturdy enough to hold 150 pounds. Good news, it comes completely assembled and with a one year warranty. Sit on the heavy-duty molded seat, put your feet on the bar, and simply swing the handlebars from side to side. You're off and rolling! So compactly built, it turns on its own radius. Learn more at www.MasonCorporation.com
Flying Turtle ...

Is it a bird? Is it a plane? No, it's everyone's favorite sit-...
Product Videos