2016 Ozone C4 V6 LEI Kite
2016 Ozone C4 V6 LEI Kite
[x]
Our Free shipping depends on the size of the item and the destination of the shipment. Remember, you can always change or upgrade the shipping type or speed as long as the item has not been sent to the warehouse for shipment.
Standard Orders Always Ship FREE Over $49 (All 50 US States including Territories)
Shipping speed of these items depends on the weight and size of the item. Though most items ship USPS Priority Mail, very small items will be sent USPS First Class Mail. The remainder will be shipped either FEDEX or UPS Ground.
Oversized Orders Mostly Ship FREE Over $49 (Continental US)
Some oversized items may incur a shipping fee, but most items ship for free. These items normally ship UPS or FEDEX Ground but some shipments maybe sent Sure Post or Similar, which may add a few days. You can always upgrade your shipping speed if the item hasn't shipped. Just call or email us.
Canadian Buyers Please Email or Call For Pricing
[x]
Our Price Matching Guidelines
Shadeonme is committed to providing you, our customers, with the best prices on all our products guaranteed. If you find a lower advertised price from a legitimate authorized Internet retailer we may match the price, as long as you meet our eligibility requirements.
You are eligible for a price match if you meet the following requirements:
The product must be identical to the product we have in stock for sale on our website. This includes the size, color, model year, components etc.
The price match item must include all costs the competitor would be charging you including tax and shipping speed/price where applicable.
The product we are price matching must be in stock and currently available for purchase from the other retailer.
The product must be offered for sale for a continuous 24-hour period.
Price matching may not apply to eBay, Amazon, or any other Internet auction sites.
Terms & Conditions:
Price comparison must include the product price plus shipping, handling fees, and taxes when price matching.
Price matching excludes the use of coupons, promotional offers, and/or product-bundle pricing, which cannot be combined on the order.
Price matching is limited to one item per customer.
Price matching is always subject to the discretion of Shadeonme.com.
Product Description
Ozone C4 V6 Kite
The C4 is well known for its explosive pop and drop, boosting huge airs and massive kite loops. It meets top-level Wakestyle and Freestyle riders needs, while maintaining ease of use and control in all conditions Refined canopy profiles aid kite stability, and the progressive forward-driving turn generates consistent power and lift while boosting airs and kite loops. When it comes to hitting kickers and sliders, the C4 V6 gives you confidence, providing a smooth predictable pull allowing you to focus on your line As with all Ozone products, we pride ourselves with top of the line manufacturing in our own factory using the highest quality materials. The C4 V6 is constructed with quality proven Teijin D2 canopy material and Teijin Dacron providing a crisp feel and a strong kite.
4-LINE BRIDLE MODE: The C4 V6 incorporates a specifically developed planform and arc combined with our classic 4-Line pulley-less bridle setup. This delivers a superior C-kite with feel, handling and de-power. Wakestyle/Freestyle - Offering a heavier and direct feel, with a solid load up and pop for unhooked moves. The C4 V6 ships standard on this setting. Free Ride - The Free Ride setting offers a lighter bar feel and increased de-power. If you want C-kite performance but prefer a lighter kite on the arms this is the setting for you. To use this setting simply shift the middle bridle lines to the pigtail knot closest to the leading edge. We recommend combining the Variable Bridle Geometry with Backline Adjustment options to mix and match for a personalised feel.
5-LINE MODE: In 5-Line mode the C4 V6 changes in overall performance. The kite is held in a tighter C-shape arc increasing structural stiffness. This translates to a precise and direct feeling on the bar with increased power during load up for pop, and increased slack when in the air. This increase in slack also increases steering delay, giving more time for grabs and handle passes. There is less de-power in 5-Line mode requiring more rider input with the board to control the power. Re-launching the C4 V6 in 5-Line mode is simple and easy - either pull on one back line as in 4-Line mode, or reach up and pull Line no.5 to turn the kite onto its back before re-launching.
Ozone C4 V6 Features
4-line bridled depower.
5-line conversion option.
Wakestyle/Freestyle & Freeride modes.
Progressive forward-driving kite loops.
Smooth predictable pull when hitting features
One-Pump system for quick and easy setup.
High volume inflate/deflate valve
Color coded and numbered fool proof line connectors.
Multiple trimming options for customized handling and bar pressure.
Kite Only Kit Includes
Kite
Large technical bag
Repair pack
Manual
Stickers, keyring
Complete Kit Includes
All items from Kite Only
package
Bar with 23m lines
Leash
Pump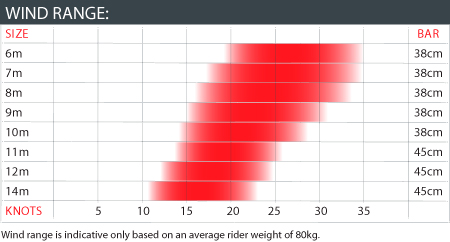 4-Line to 5-Line Conversion Information
The C4 V6 Kite and C4 V6 Control System ship standard in 4-Line Bridle mode. A simple conversion is required to the kite and control system for 5-Line mode. Included with each C4 V6 kite is a 5-Line Conversion Kit containing 1x Y-bridle and 2x A5 front line pigtails. Included with each C4 V6 Control System is 1x Line no.5.