HQ Hydra II 420 Trainer Kite l Free Kite or Way To Fly DVD
HQ Hydra II 420 Trainer Kite l Free Kite or Way To Fly DVD
[x]
Our Free shipping depends on the size of the item and the destination of the shipment. Remember, you can always change or upgrade the shipping type or speed as long as the item has not been sent to the warehouse for shipment.
Standard Orders Always Ship FREE Over $49 (All 50 US States including Territories)
Shipping speed of these items depends on the weight and size of the item. Though most items ship USPS Priority Mail, very small items will be sent USPS First Class Mail. The remainder will be shipped either FEDEX or UPS Ground.
Oversized Orders Mostly Ship FREE Over $49 (Continental US)
Some oversized items may incur a shipping fee, but most items ship for free. These items normally ship UPS or FEDEX Ground but some shipments maybe sent Sure Post or Similar, which may add a few days. You can always upgrade your shipping speed if the item hasn't shipped. Just call or email us.
Canadian Buyers Please Email or Call For Pricing
[x]
Our Price Matching Guidelines
Shadeonme is committed to providing you, our customers, with the best prices on all our products guaranteed. If you find a lower advertised price from a legitimate authorized Internet retailer we may match the price, as long as you meet our eligibility requirements.
You are eligible for a price match if you meet the following requirements:
The product must be identical to the product we have in stock for sale on our website. This includes the size, color, model year, components etc.
The price match item must include all costs the competitor would be charging you including tax and shipping speed/price where applicable.
The product we are price matching must be in stock and currently available for purchase from the other retailer.
The product must be offered for sale for a continuous 24-hour period.
Price matching may not apply to eBay, Amazon, or any other Internet auction sites.
Terms & Conditions:
Price comparison must include the product price plus shipping, handling fees, and taxes when price matching.
Price matching excludes the use of coupons, promotional offers, and/or product-bundle pricing, which cannot be combined on the order.
Price matching is limited to one item per customer.
Price matching is always subject to the discretion of Shadeonme.com.
Product Description
HQ HYDRA II 420 Trainer Kite Package
HQ Power Kites proudly introduced the HQ Hydra model in 2009, the world`s first and only water re-launchable, foil trainer kite. Now the Hydra II is here with a new vent system, reduced bridle, and redesigned cell structure for increased performance. The HQ Hydra II 420 trainer kite lets you accomplish something no other trainer kite has ever done before. It lets you train, body drag, and do kiteboarding in every environment including in the WATER. The Hydra 420 is the largest model in the lineup and will generate massive power in ways other open-cell trainer kites will never do. The Hydra 420 trainer kite is extremely stable and easy to fly even with its ability to generate lots of power. Its closed cell ram–air foil architecture has no bladders to inflate or replace and yet it floats on water as if it was inflated. The HQ Hydra II 420 Closed Cell system now features an internal drainage system with dirt-outs so you can remove debris. The Hydra's reduced bridle is stitched Dyneema for added strength.
The HQ Hydra II 420 can relaunch your fallen trainer kite in any position even backwards off the water; with just a pop of the 3rd line you will get back to flying in no time. Another feature is the third line safety system which uses the third line to fold the kite inward depowering it and letting it fall safely to earth which makes it perfect for use by absolute beginners. The Hydra 420 flies great in low winds, and generates plenty of pull for body drag. Other activities when the wind is strong like snowkiting, or stand up paddle boarding are now possible. The HQ Hydra 420 offers true and safe kiteboarding power at an affordable price no one can match.
HYDRA II 420 Kite Features
Bar Setup: 3 Line Pro System with Depower on a 50cm Control Bar with EVA Foam Grip
Kite Size: 4.20 Meter Span and 4.52 Meters Squared
Wind Range: 4 - 21 MPH
Setup: Ready to Fly. Lines Attached Just Remove from Bag and Fly
Flyer Size: Medium to Full Sized Flyers (Not Recommened for Children)
Design: HQ Closed Cell Design (Water Ready) with 3rd Line Depower - Color Matches Model
FREE

DVD or KITE When You Order a HQ Hydra II Today.
HQ HYDRA II 420 Trainer Kite Package Includes
HQ Hydra II 420 Trainer Kite
HQ Pro 3 Line 50cm Control Bar Covered in EVA Foam Grip
3 x 20m 485lb Dyneema Line set
Safety Wrist Strap 3rd Line Pro Depower System
Sling Bag with Strap for Easy Carry and Kite Storage
FREE HQ Trainer Kite Guide
FREE The Progression Kiteboarding Beginner DVD OR HQ Comet Bonus Kite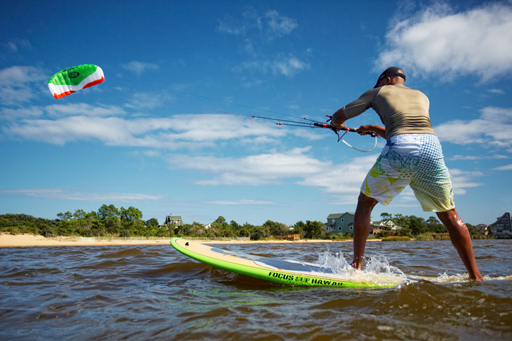 Not Sure Which Trainer Kite is for you? Check Out ShadeOnMe's

Trainer Kite Guide
Product Reviews
Write Review
Great Kite!

Posted by Sarah on 14th May 2014

Upgraded from the Rush 350 Pro to Hydra so I can pull my Stand Up Paddleboard. I cant believe how powerful this kite is. I have a blast.

Great Kite!

Posted by Josh on 14th May 2014

Just a Great Kite.

Nothing Comes Close

Posted by Bill Johnston on 14th May 2014

This kite can do it all from snow to water. If your looking for a trainer kite this is a must buy.