2012 Ozone FLOW Power Kite
[x]
Our Free shipping depends on the size of the item and the destination of the shipment. Remember, you can always change or upgrade the shipping type or speed as long as the item has not been sent to the warehouse for shipment.
Standard Orders Always Ship FREE Over $49 (All 50 US States including Territories)
Shipping speed of these items depends on the weight and size of the item. Though most items ship USPS Priority Mail, very small items will be sent USPS First Class Mail. The remainder will be shipped either FEDEX or UPS Ground.
Oversized Orders Mostly Ship FREE Over $49 (Continental US)
Some oversized items may incur a shipping fee, but most items ship for free. These items normally ship UPS or FEDEX Ground but some shipments maybe sent Sure Post or Similar, which may add a few days. You can always upgrade your shipping speed if the item hasn't shipped. Just call or email us.
Canadian Buyers Please Email or Call For Pricing
[x]
Our Price Matching Guidelines
Shadeonme is committed to providing you, our customers, with the best prices on all our products guaranteed. If you find a lower advertised price from a legitimate authorized Internet retailer we may match the price, as long as you meet our eligibility requirements.
You are eligible for a price match if you meet the following requirements:
The product must be identical to the product we have in stock for sale on our website. This includes the size, color, model year, components etc.
The price match item must include all costs the competitor would be charging you including tax and shipping speed/price where applicable.
The product we are price matching must be in stock and currently available for purchase from the other retailer.
The product must be offered for sale for a continuous 24-hour period.
Price matching may not apply to eBay, Amazon, or any other Internet auction sites.
Terms & Conditions:
Price comparison must include the product price plus shipping, handling fees, and taxes when price matching.
Price matching excludes the use of coupons, promotional offers, and/or product-bundle pricing, which cannot be combined on the order.
Price matching is limited to one item per customer.
Price matching is always subject to the discretion of Shadeonme.com.
Product Description
2012 Ozone Flow Power Kite
The Ozone Flow power kite is unique in that it is a kiteboarding Hybird for land kiting and more. It offers safety and ease of use that a beginner can pick up and progress. The Flow also offers power, speed, and a price you can afford. This Ozone power kite features a fixed bridle with four flying lines offering constant power and full de-power for when things get hairy. The Ozone Flow offers the kiter a high top end wind range and lightwind usability. The Ozone Flow will help you progress into the kites you see catching sick hang time and high speeds cruising. But this kite will help you learn the skills to do the other safely and without breaking the bank. Do not wait Go With The FLOW!
Flow Power Kite Features:
High Performance Sail designed for a balance of stability, speed, and power
Open cell power kite offers huge wind range specially the top
Step up from Trainer Kites
Great for Land and SnowKiting
Beginner Friendly (safety of a trainer kite and the power of a true power kite)
Outstanding Land Kiteboarding Value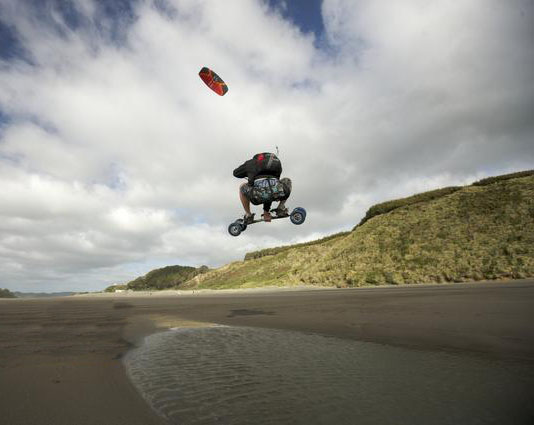 Ozone Flow Package Includes:
2012 Flow Kite
2012 Ozone Flow Control Bar or Quad Handles with FULL De-Power (If Chosen Above)
Dyneema Four 20 Mete Line Set (If Bar or Handles Chosen Above)
Water Proof Flow Backpack for Storage and Easy Carying
Manual
Ozone Stickers and Keychain