[x]
Our Free shipping depends on the size of the item and the destination of the shipment. Remember, you can always change or upgrade the shipping type or speed as long as the item has not been sent to the warehouse for shipment.
Standard Orders Always Ship FREE Over $49 (All 50 US States including Territories)
Shipping speed of these items depends on the weight and size of the item. Though most items ship USPS Priority Mail, very small items will be sent USPS First Class Mail. The remainder will be shipped either FEDEX or UPS Ground.
Oversized Orders Mostly Ship FREE Over $49 (Continental US)
Some oversized items may incur a shipping fee, but most items ship for free. These items normally ship UPS or FEDEX Ground but some shipments maybe sent Sure Post or Similar, which may add a few days. You can always upgrade your shipping speed if the item hasn't shipped. Just call or email us.
Canadian Buyers Please Email or Call For Pricing
[x]
Our Price Matching Guidelines
Shadeonme is committed to providing you, our customers, with the best prices on all our products guaranteed. If you find a lower advertised price from a legitimate authorized Internet retailer we may match the price, as long as you meet our eligibility requirements.
You are eligible for a price match if you meet the following requirements:
The product must be identical to the product we have in stock for sale on our website. This includes the size, color, model year, components etc.
The price match item must include all costs the competitor would be charging you including tax and shipping speed/price where applicable.
The product we are price matching must be in stock and currently available for purchase from the other retailer.
The product must be offered for sale for a continuous 24-hour period.
Price matching may not apply to eBay, Amazon, or any other Internet auction sites.
Terms & Conditions:
Price comparison must include the product price plus shipping, handling fees, and taxes when price matching.
Price matching excludes the use of coupons, promotional offers, and/or product-bundle pricing, which cannot be combined on the order.
Price matching is limited to one item per customer.
Price matching is always subject to the discretion of Shadeonme.com.
Product Description
Ozone Octane
The OCTANE is Ozone's answer for an easy introduction into performance power kiting, perfectly suited for novice through to seasoned kite flyers. It's smooth flying characteristics and constant pull speeds your kiting progression with no compromise. The OCTANE will keep your excitement and adrenaline pumping with its precise and always predictable handling. Available in four sizes; 2, 3, 4 and 5 meters squared, the OCTANE covers a massive range enabling action in almost any conditions. All sizes are capable of meeting the demands and capturing the imagination of any kiter. The OCTANE can be purchased as kite only or complete ready to fly, with either handles or control bar. The package includes an Ozone Ground Stake, perfectly suited for securing your kite safely and easily.
The Octane's Top 11 Features
1. Faster turning and improved flight performance
2. Four Lines (not two) 3. Optimized Simplicity for snow and landkiting beginners
4. Stable Flying Characteristics
5. Wide Wind Range
6. Fixed Bridle
7. Fly with or Without a Harness
8. No Difficult to Understand Assembly READY TO FLY!
9. Internal Drainage System with Dirt-Outs
10. Large Durable Backpack for Storage
11. OzTex 40D Ripstop nylon fabric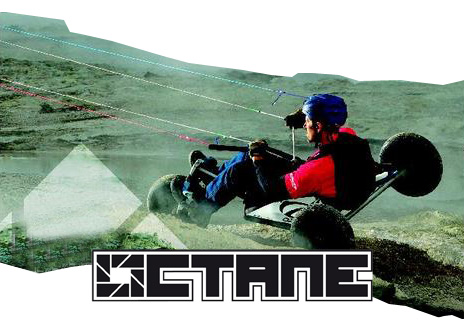 SIZE YOUR OCTANE
2m2 Size Octane:
The 2m is about as much fun as you can hope to have with a small kite. Massive top end wind range for high-speed landboarding / buggy runs and just the right amount of challenge for anyone with ambition. eavier rider
3m2 Size Octane:
The 3m is the ideal entry point in the range for the land locked kiter, generating power early on in the wind range while always being easy to control. Quite possibly the perfect introduction to land boarding.
4m2 Size Octane:
The 4m has the bottom end power needed in the lighter winds likely to be encountered by novice snow kiters and is a great mid-range buggy or landboard kite.
5m2 Size Octane:
The 5m is the one to beat in is this category, with light wind performance for effortless traction and an upper limit the pros will just keep pushing.
| | |
| --- | --- |
| | BAR: The 55cm Control Bar features an EVA covered 3D grip with easy to identify colours for left and right sides. The rear brake line pulley allows for smooth kite control, combined with the safety wrist leash and release handle connected to rear lines offering an easy and effective stall system. Fly unhooked to feel the full power or hook into a harness with the benchmark Ozone Megatron Quick-Release chicken loop. |
| | HANDLES: Neoprene covered handles offer ultimate comfort, control and grip. The handles include power line finger chafe guards and ground stake loops on the rear leaders. Safety "Kite Killer" wrist leashes with EVA foam are also included for peace of mind when letting go. |
| | GROUND STAKE: The OCTANE package includes an Ozone Ground Stake, perfectly suited for securing your kite safely and easily. - Bright red ABS plastic to be durable and clearly visible - 8mm diameter 316 Stainless Steel stake - Molded ribs help the stake stay fixed in soft soil, sand or snow - Molded tabs to attach lines and run them out easily - Ergonomic top handle for easy push in and removal from the ground - Sturdy pouch to keep the sharp end away from kite material |
Whats Included in the Ozone Octane Power Kite Package:
+ Ozone Octane Power Kite
+ Octane 4 Line Bar (If Bar Selected)
+ Safety Wrist Leash and Megatron Chicken Loop (If Bar Selected)
+ Octane Quad Handle Set (If Handles Selected)
+ Dual Safety Wrist Kite Killers (If Handles Selected)
+ FREE Stainless Steel Ground Stake
+ Dyneema Line Set
+ Large Kite Backpack Bag for Storage & Transport
Ozone Octane power kite
02:35
The OCTANE is Ozone's answer for an easy introduction into performance power kiting, perfectly suited for novice through to seasoned kite flyers. http://www.flyozone.com/landkites/en/products/fix-bridle-line-kites/octane/info/
Ozone Octane p...

The OCTANE is Ozone's answer for an easy introduction into per...
Product Videos